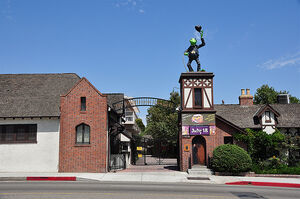 The Jim Henson Company Lot, situated on North La Brea Avenue in Hollywood, CA, is the current home and central production facilities of the The Jim Henson Company. Located on the old Charlie Chaplin Studios lot, built by Chaplin in 1917. A large statue of Kermit the Frog as dressed as Chaplin stands on the roof of the main building.
Many Henson Alternative projects have been produced on the lot. In 2005 Jim Henson's Puppet Improv debuted on a stage of the Jim Henson Studios with a special live show for friends and invited industry guests.
In a 2008 video episode of the Henson.com Podcast, host Grant Baciocco is given a Halloween tour of lot by a member of the Puppet Up! - Uncensored cast. A facilities engineer named Steve (performed by Michael Oosterom) gives a detailed account of the property's spooky history.
Bobby Vegan and Samson Knight recorded a special tour video for the "Adventures by Disney" tours of the Henson Studio lot. In the video Bobby and Samson provide an overview of the history of the facilities.
External links
Edit