We're Getting Mutants in the MCU - The Loop
Play Sound
The Happytime Murders is a film produced by the Jim Henson Company. The film, part of the company's Henson Alternative brand, was first announced in October 2008. The Happytime Murders, an irreverent puppet comedy, plays on the classic film noir detective genre.[1] The film is distributed by STX Entertainment for the theatrical release while Universal Home Entertainment distributes the home video release.
The film was released on August 24, 2018 in the United States and Canada to negative critical reviews and is considered to be the one of the worst films ever made.
The film is based on an original story by Todd Berger and Dee Robertson; with the screenplay penned by Berger. The film stars Melissa McCarthy, Bill Barretta, Maya Rudolph, Joel McHale, and Elizabeth Banks.
The film received six nominations at the 39th Golden Raspberry Awards including Worst Picture and Worst Actress for McCarthy, winning the latter award.
Plot
[
]
" In a world where puppets co-exist with humans as second class citizens, puppet private eye and disgraced ex-cop, Phil Phillips, is hot on the trail of the serial killer who murdered his brother and is now targeting the cast members of the famous 90s television show, "The Happytime Gang." As the killings continue, Phil's former flame, Jenny, is next on the list. It's up to Phil and his ex-partner, Detective Edwards, to find the culprit, but as bad blood and old resentments resurface the clues start pointing to the only viable suspect, Phil himself. Now he's on the run with only his wits and hard headed determination, as he tries to solve, "The Happytime Murders." "
Cast
[
]
Melissa McCarthy

as Detective Connie Edwards, Phil's ex-partner.

Maya Rudolph

as Bubbles, Phil's secretary.

Joel McHale

as

Agent Campbell

, a stern FBI agent who is working on the case.

Elizabeth Banks

as Jenny, a burlesque dancer and Phil's "former flame". She was the only human actress on The Happytime Gang.

Leslie David Baker

as

Lt. Banning

, Edward's superior.

Jimmy O. Yang

as Officer Delancey

Ryan Gaul

as Officer Milligan

Mitch Silpa

as Tommy

Cynthy Wu

as

Brittenie Marlowe

Michael McDonald

as

Ronovan Scargle

Ben Falcone

as Donny
Puppeteers
[
]
Additional Puppeteers: Grant Baciocco, Greg Ballora, Tim Blaney, Kevin Carlson, Kristin Charney, Artie Esposito, Peggy Etra, Dan Garza, James Godwin, B.J. Guyer, Patrick Johnson, Sean Johnson, James Kroupa, Tim Lagasse, Bruce Lanoil, Len Levitt, Jayden Libran, Lara MacLean, Amanda Maddock, Paul McGinnis, Alison Mork, Michael Oosterom, Karen Prell, Mike Quinn, Nicolette Santino, John Tartaglia, Art Vega, Alex Villa and Russ Walko.
Crew
[
]
Directed by Brian Henson
Produced by Brian Henson,

Jeff Hayes

,

Jason Lust

,

Melissa McCarthy

and

Ben Falcone

Screenplay by

Todd Berger

Story by Todd Berger and

Dee Austin Robertson

Music by Christopher Lennertz
Cinematography by Mitchell Amundsen
Edited by Brian Scott Olds
Puppet Captain: Kevin Clash
Creature Shop
[
]
Puppet Designers: Peter Brooke, Brett Bean, Ed Eyth, Casey Miller, and Drew Pierce
Creative Supervisor (New York): Jason Weber
New York Puppet Fabricators: Heather Asch, David Bizzaro, Mary Brehmer, Jamie Bressler, Brian Carson, Elizabeth Cherry, Benjamin Durocher, Richard W. Dyar, Jonathan Ehrich, Victoria Ellis, James Godwin, Brian Haimes, Liz Hara, Arrow Kleeman, Joseph Kovacs, James Kroupa, Sarah Lafferty, Aria Linz, Mica Linz, Kari Love, Laura Manns, Anney McKilligan Ozar, Gabriella N. Padilla, Lily Rosen, Stephen Rotondaro, Kate Rusek, Sierra Schoening, Keely Snook, Mark A. Stys, David Valentine, Matt Witham, and James Wojtal
Los Angeles Puppet Fabricators & Wrangling Team: Scott Johnson, Russ Walko, Andrea Detwiler, Lara MacLean, Amanda Maddock, Tom Newby, Pyn King-Sheers, Wes Humphrey, Luke Peters, Robert Pound, and Jocelyn Lynch
Release Dates
[
]
Belgium / Sweden - August 22, 2018
Argentina / Australia / Israel / Netherlands / New Zealand / Portugal - August 23, 2018
Canada (Quebecois French) / Estonia / Finland / Latvia / Lithuania / Mexico / Spain / Turkey - August 24, 2018
United Kingdom & Ireland - August 27, 2018
Hong Kong / Hungary / Malaysia - August 30, 2018
Poland / Romania / South Africa - August 31, 2018
Chile - September 6, 2018
Bulgaria - September 7, 2018
Czech Republic / Denmark / Peru / Singapore - September 13, 2018
Norway - September 14, 2018
France - September 19, 2018
Brazil / Colombia / Russia / Ukraine - September 27, 2018
Germany / Lebanon - October 11, 2018
Austria - October 12, 2018
Italy - October 18, 2018
Taiwan - October 19, 2018
Middle East - November 21, 2018
Greece - December 27, 2018
Japan - February 22, 2019
Thailand - February 28, 2019
South Korea - May 23, 2019
Trailers
[
]
Gallery
[
]
Development
[
]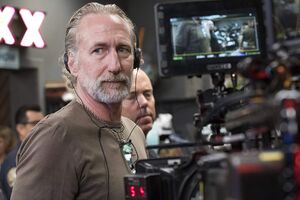 In early 2009, Lisa Henson commented on the project, and the prospects of future Henson Alternative feature films, stating:
" It's an adult puppet movie. It's going to be a film noir starring a puppet detective and basically it's a spin-off of our theatre franchise Puppet Up!... We loved the live shows so much that we were trying to figure out what we wanted to do to go to the next level with that kind of comedy. So we want to do a series of Puppet Up! films which would all be in different genres. So this would be film noir detective, and if we do another one it won't be that genre – it would be a teen comedy, or a sci-fi, or something like that. So we would use the Puppet Up! improv style to do different genres.[2] "

In October 2010 it was announced that the project had been picked up by Lionsgate, with insiders talking about a possible January 2011 production start.[3]
Dwayne Johnson was rumored to have met with Brian Henson in early 2011 regarding the project.[4] In November 2010 Cameron Diaz was rumored to have been offered a starring role in the film.[5] In February 2012 Katherine Heigl was reported to be in final negotiations to star in the film.[6]
The initial announcement described the film as:
" Featuring the well-known Henson style of irreverence and parody, and taking its cues from such films as Pulp Fiction and LA Confidential, "Happytime Murders" presents a twist on the film noir genre. In a world where puppets are a minority race amongst humans, a puppet detective is forced to solve a string of murders around The Happytime Gang, the cast of a beloved children's show, that is being picked off by a mysterious villain. "

Brian Henson commented in 2011 that the film was still in development, and that the Henson Company hoped to start shooting in the Spring of 2012. He revealed the series takes place in a world where the puppets are a minority group, and that the main character is a detective that once worked for the LAPD, but was fired.
IM Global sold the film through its Opus label at Berlinale in February 2012.
Concept art for the film was released in March 2012.[7]
Todd Berger commented on the script and pre-production in a June 2012 interview, saying:
" I want to try to make the Heat of puppet movies. I want to be The Dark Knight or Heat but in a world where puppets and humans coexist. Brian [Henson] was like, "This mystery actually needs to be interesting so that even if you took all the comedy out of it, it's still going to be interesting to watch"... Brian has actually already been working on the main character puppet. The Creature Shop has already made a few test puppets that I've met in person that are amazing... It's a movie in which puppets and humans coexist and a lot of the supporting characters are all puppets. So they have a puppet improv group called Stuffed & Unstrung that tours around America doing improv shows. They're going to use a lot of those puppets but they're also going to create a bunch of new ones. There's a whole cast of characters in the script that they're going to create from scratch... It is a full-on R - there is swearing, there's sex, violence, murder. Maybe with some work it could be PG-13 but as of now we've embraced the R rating.[8] "
Lisa Henson spoke of the film at the National Puppetry Festival in 2015, claiming the film was still looking for a producer: she cited the main issue of getting the film produced was that though people who read the script (like Paul Giamatti) loved it, those who did not were skeptical of an R-rated puppet film. Shortly after this, STXfilms bought the script.
After years of silence, it was announced on May 3, 2017 that comedian Melissa McCarthy had signed on to the film as the human detective (the role apparently having changed genders since the original concepts), as well as taking a producer role alongside her husband Ben Falcone. After almost a decade in development, the film began production in August 2017.[9]
On July 1, 2017, it was announced that the film would be released on August 17, 2018.[10]It was bumped up to August 24 instead.[11]
On August 24, 2017, it was announced that Maya Rudolph had joined the cast as Bubbles, Phillips' secretary.[12][13]
On September 13, 2017, it was announced that Elizabeth Banks had joined the cast as burlesque dancer Jenny. It was also confirmed that Bill Barretta would be the performer for the main character Phil Phillips.[14]
On September 15, 2017, it was announced Joel McHale had joined the cast as FBI agent.[15]
On May 18, 2018, the first trailer was released before selected screenings of Deadpool 2 and online.
Concept artwork
[
]
Home Media
[
]
The Happytime Murders was released on Digital HD on November 20, 2018.[16] The Happytime Murders was released on Blu-Ray & DVD on December 4, 2018 by Universal Pictures Home Entertainment.[17]
Lawsuit
[
]
On May 2018, it was reported that Sesame Workshop had sued STX Entertainment for the tagline for the marketing of The Happytime Murders which is No Sesame. All Street. This is because Sesame Workshop feels it is damaging the Sesame Street brand.[18] Sesame Workshop eventually lost the case.
Afterward, in one of the TV spots, the film was jokingly introduced as being "From the studio that was sued by Sesame Street..."
#ReleaseTheHensonCut campaign
[
]
To be added
Sources
[
]
External websites
[
]