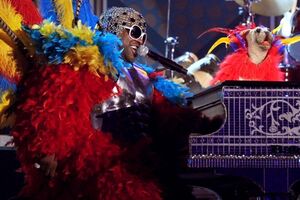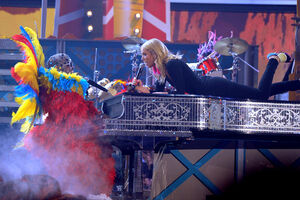 The 53rd annual Grammy Awards was held on February 13, 2011 at the Staples Center in Los Angeles and was broadcasted nation-wide on CBS.
The Jim Henson Company's Henson Alternative puppets performed back-up for a performance of Cee Lo Green's "Forget You" by Green along with Gwyneth Paltrow.
Brian Henson told MTV News that viewers will truly see an "unforgettable" version of the song:[1]
" We have a live theater show in New York called Stuffed and Unstrung, and we've taken a bunch of the characters from that cast and made them into a band and backup singers for Cee Lo. He'll be backed by puppets who will make up a very weird and cool band. "
Henson said the idea to sing with the puppets came from Green, who approached the Henson Company with a concept of what he wanted to do. Henson said, "We had never worked with him before, and he's just a fabulous guy. I think he's a lifelong fan of the Muppets, and he had a pretty good idea of what he wanted. I think it will really be an unforgettable version of the song." [1]
Credits
[
]
Performers:
Puppeteers:
Puppet Wrangler:
Julie Zobel
Sources
[
]