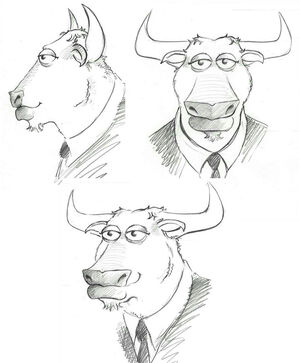 Samson Knight, a homosexual bull, is the manager and life-partner of Bobby Vegan. Samson lives in Hollywood with Bobby and their foster son, Foster. He was featured in Tinseltown, a pilot for a spoof-reality show which followed the life of Bobby and his family.
Samson was married to Lena, a human female, before he realized he was, as Bobby put it, "swinging the wrong way".[1] Samson Knight is in a committed and loving relationship with the celebrity Bobby Vegan, whom he also manages. Samson and Bobby met circa 1990 when Bobby appeared as a guest on a radio program Samson was hosting. Bobby and Samson hit it off at once and have been together ever since.
Sampson and Bobby also hosted a special tour video created for the "Adventures by Disney" tours of the Henson Studio lot. The couple also returned in 2010 for the stage show Stuffed and Unstrung serving as the show's producers. As such, Sampson and Bobby were heavily featured in the show's promotional materials and new media campaigns; including an appearance on Last Call with Carson Daly.
On September 24, 2011, Bobby and Samson appeared in an exclusive YouTube video introducing the website's spotlight playlist celebrating Jim Henson's 75th birthday.
Samson Knight is a live-hand puppet, Henson was assisted in performing him by Drew Massey in the Tinseltown pilot.
Press bio
Edit
Samson arrived in Los Angeles as a young bull in the late 1970's. Having graduated early from the MIT Genetic Research program, he headed out west determined to turn his life in a new direction...Show Biz!
After a brief stint in radio, he met Bobby Vegan and was simply wowed by his talent. Remembering their first meeting, Samson says "Bobby changed my life. He's really spectacular! Well, not just spectacular...he's fantastic. I can't put it into words...He's Spantacular!" Samson had a vision for Bobby Vegan, and within a few months Samson signed on as Bobby's manager.
History will always remember Bobby Vegan's premier in "The Other White Meat", but Bobby credits Samson with his success on the show saying "If it hadn't been for Sammy, I'd still be selling hot links at Dodger games."
After twenty years, theirs is still a partnership bound for bright lights.[2]
↑ The Jim Henson Company Podcast. Episode 17. October 26, 2007
↑ Henson.com: About Tinseltown