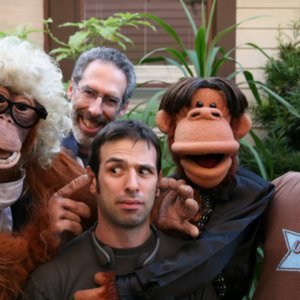 [[Video:The Simian Undercover Detective Squad - Interview with Perry Sachs|thumb|300px|An interview with Perry Sachs about The Simian Undercover Detective Squad.]] Perry Sachs is the co-creator, writer and director of the Henson Alternative webseries The Simian Undercover Detective Squad. He went on to co-write and produce another Henson Alternative webseries, Alt/Reality. Perry is currently developing his third Henson Alternative, Mann-ster, a digital project for the Zune Network about a man who turns into a crime-fighting hamster.
Sachs has been a contributing writer for "Saturday Night Live's Weekend Update" since 2004.
Originally from Washington, D.C., Sachs came to Los Angeles in 1994. After studying with Acme and The Groundlings, Perry founded a sketch group, The Joke Pimps, which wrote and performed material at comedy clubs around Los Angeles, including the famous Comedy Store on Sunset. In 2005, Sachs co-wrote, directed and produced the short film, "F," which has won multiple awards on the international festival circuit. Sachs has worked as a writer, director and producer for Nickelodeon, Fuel TV and The Jim Henson Company and, along with his partners, runs Fourfront Productions, a full-service production house.
Community content is available under
CC-BY-SA
unless otherwise noted.