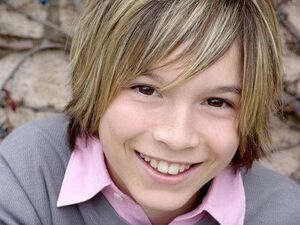 Paul Butcher (born 1994) played the role of Foster in the Henson Alternative pilot Tinseltown.
Butcher was born in Los Angeles, California, the son of former NFL linebacker Paul Butcher Sr. Butcher is best known for playing the role of Dustin Brooks, brother of Zoey Brooks, on the TV show Zoey 101.
He began his acting career when he was seven years old, appearing in a minor role on The Bernie Mac Show and has appeared on The King of Queens, Bones, NYPD Blue, ER and That 70s Show. He has also supplied voices for many animated projects, including the films Over the Hedge, Barnyard, Ice Age 2 and Meet the Robinsons. He also appeared in the film The Number 23 playing the dual roles of the young Fingerling and the young Walter.
External links
Edit