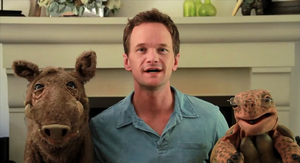 Neil's Puppet Dreams is a webseries produced by The Nerdist Channel in collaboration with the Jim Henson Company's Henson Alternative brand. The series was created by and stars Neil Patrick Harris. The series premiered on Nerdist YouTube channel in November 2012. Seven episodes have been produced.
In April 2013, Neil's Puppet Dreams was nominated for a Webby Award in the "Best Comedy: Long Form or Series" category.
This web series features Neil Patrick Harris and his partner David Burtka. In the series, Neil has an affliction that causes him to have dreams that are populated by puppet characters. Neil opens each episode by talking directly to the audience, stating: "Hi, I'm Neil. I sleep a lot and when I dream, I dream in puppet." He then promptly falls asleep and has a puppet dream.
Behind the scenes
Edit
Puppeteers
Edit
Created by: Neil Patrick Harris, David Burtka, and Janet Varney
Executive producers: Neil Patrick Harris, David Burtka, Janet Varney, Brian Henson, Chris Hardwick, and Seth Laderman
Produced by: Ritamarie Peruggi
Co-producers: Brian Clark and Michael Serrato
Directed by: Kirk Thatcher
Written by: David Burtka, Janet Varney, Kirk Thatcher, Brian Clark and Michael Serrato
Music by: Markaholic
Production designer: William Lakoff
Editor: Q. Bryce Randle
Working titles for the series included "Neil Patrick Harris: Dreaming in Puppets" and "Neil Patrick Harris' Puppetopia."
All seven episodes were shot in two and a half days; shooting at Harris and Burtka's house and the Jim Henson Company Lot.
External links
Edit
Community content is available under
CC-BY-SA
unless otherwise noted.