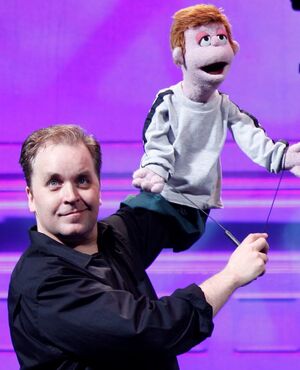 Michael Oosterom is a Jim Henson Company performer and the Production Manager of Jim Henson's Creature Shop. He has performed as a memeber of the company's puppet improv troupe in both Puppet Up! - Uncensored and Stuffed and Unstrung. He performed Steve, the facilities manager, for the Henson.com Podcast; and performed in Hot Dog TV, Simian Undercover Detective Squad, Alt/Reality and No, You Shut Up!.
Additionally he has puppeteered for appearances at the 53rd Grammy Awards and on the KTLA Morning News. Through the Creature Shop, he was a member of the puppet building team for Late Night Buffet with Augie and Del, Tinseltown and many other Henson projects.
Oosterom's stage credits include the American Conservatory Theater, The California Shakespeare Festival, The San Francisco Mime Troupe and the national tour of Steve Martin's "Picasso at the Lapin Agile." TV credits include Nickelodeon's "The Amanda Show," "The District," and "Help Me Help You." Recent puppet credits include "Where The Wild Things Are," "Pushing Daisies," "Forgetting Sarah Marshall" and "Dante's Inferno." He is an alumni of The Groundlings Sunday Company.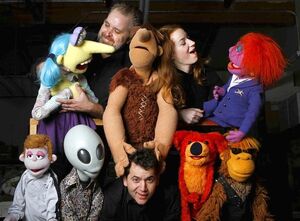 Puppet Up! - Uncensored - cast
Late Night Buffet with Augie and Del - puppet builder
Tinseltown - puppet builder
The Henson.com Podcast - performer (Steve)
Simian Undercover Detective Squad - performer (Mad Goat and various others)
Alt/Reality - performer (various)
Stuffed and Unstrung - cast
Hot Dog TV - performer (Hot Dogs)
No, You Shut Up! - performer (Armond Mite, Dax Rhesus, Doug the Bat, Dr. Mooz, Dwayne Johnson, George Rooney, Gulag, Oliver Pouch, Senator George Galapagos, The Constitution, and various others)
External links
Edit