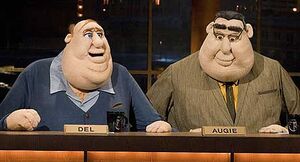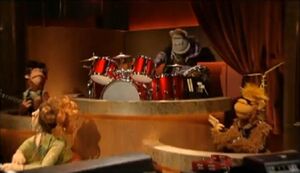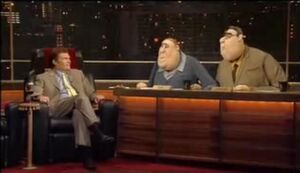 Late Night Buffet was an in-development television series produced by The Jim Henson Company for TBS. Plans for the program were first announced in June 2006, two pilots were taped in July, and the show was originally considered for a possible debut in early 2007.
Like many late night talk shows, Late Night Buffet would feature celebrity guests, sketches, a house band and other comedy bits. The twist however was that the show would star puppets as the hosts and other supporting cast.
Two pilot episodes were taped before a live audience at the Jim Henson Company studios on July 22, 2006. A promotional message from the hosts, Augie and Del, was played at Comic-Con 2006 promoting the then-upcoming show.
The show, part of the Henson Alternative brand of comedy, was not intended as a "children's show", and members of the live studio audience were required to be over 18.
Michael Wright (TBS senior vice president of original programming) commented on the show's development, saying "it's a different way to approach the late-night talk show...It takes the Henson brand's intelligence and warmth and mixes it with a little wickedness and fun." The show's production did not move forward and there has been no mention of the pilots or the series in any of Henson's or TBS' literature or press materials since November 2006. However, in November, lead character Del surfaced as the host of a web series, Del's Vegas Comedy Binge.
A video clip from one of the episodes was added to the Henson Company YouTube channel in 2010. The clip showcased a comedy sketch entitled "The Nannies." This is so far, the longest excerpt from the episode available to the public.
Characters
[
]
Pilots
[
]
Pilot #1 (filmed July 22, 2006 at 6:00pm)
Guests: Kathy Najimy and Hal Sparks
Pilot #2 (filmed July 22, 2006 at 8:30pm)
Guests: Fred Willard and Kaitlin Olson
Performers
[
]
Crew
[
]
Sources
[
]
External links
[
]