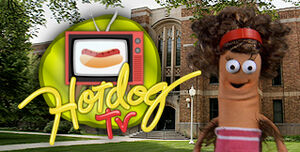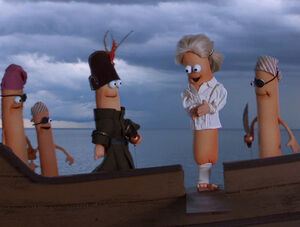 Hot Dog TV, or HDTV, is a series of one-minute interstitials featuring the hot dogs from the stage show Stuffed and Unstrung, and originally from the series City Kids. The series first ran on Cartoon Network in the summer of 2010.
Produced by the Jim Henson Company, the series was directed by Patrick Bristow, with help from Brian Henson early in the run. The series was written by Nate Knetchel.
Hot Dog TV stemmed from a sketch in the Puppet Up! improv show featuring the hot dogs. The puppets were shot fully against green screen. However unlike the Company's Henson Alternative productions, these shorts are "family friendly" and thus not billed under the Henson Alternative banner which is reserved for more adult oriented productions.
Approximately 12 episodes were made.
Argh! - July 15, 2010
Fiendish Footlong - August 2, 2010
Truth Or Dare - August 17, 2010
Performers: Julianne Buescher, Brian Clark, Brian Henson, Donna Kimball, Ted Michaels, Michael Oosterom, Paul Rugg, Allan Trautman, Victor Yerrid
Writer: Nate Knetchel
Director: Patrick Bristow
External links
Edit
Community content is available under
CC-BY-SA
unless otherwise noted.