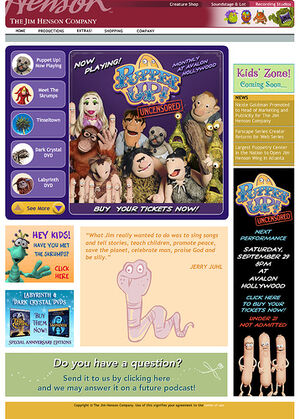 Henson.com is the long-time online home of The Jim Henson Company. The site, located at www.henson.com, first launched in 1997. The site features information on various Henson Company projects and productions - including the company's Henson Alternative brands.
In August 2006, the company launched the Henson.com Podcast, an audio (and occasionally video) podcast with news, interviews and other insider information from the company. The podcast is hosted by Grant Baciocco.
Several episodes have focused exclusivity on Henson Alternative projects - featuring interviews with cast and crew members, as well as behind the scenes information and updates.
Web extras
Edit
In March 2009 the Jim Henson Company established an official Twitter presence. Twitter, a microblogging and social networking webservice, enables its users to send and read messages text-based posts of up to 140 characters. The company shares regular tweets featuring news, insider information, exclusive pictures and other unique updates. The feed is maintained by Allyson Smith, the company's Vice President of New Media. Additional feeds for the company's family entertainment, podcast, stage shows have been launced as well.
The Jim Henson Company maintains a channel on YouTube, a video sharing website owned by Google. The company's channel showcases special videos and clips from their various productions. Exclusive full-episode previews of The Simian Undercover Detective Squad and Alt/Reality were first posted to the company's YouTube channel.
The Jim Henson Company also maintains an official page on Facebook, a popular social networking website. Launched in spring 2009, the company uses their fan page to communicate and connect with fans by sharing regular updates featuring news, insider information, and exclusive pictures.
External links
Edit