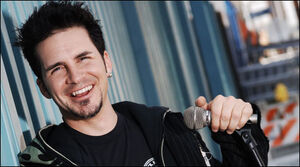 Hal Sparks (born 1969) is an actor, comedian, and one-time game show host best known for his appearances on VH1 and the role of Michael Novotny on the television series Queer as Folk. His previous claim to fame was hosting E!'s Talk Soup.
Sparks was a guest in the second of two pilots for Late Night Buffet with Augie and Del.
Sparks has also appeared on VH1's I Love the 70s, Frasier, CSI: Crime Scene Investigation, Lois & Clark: The New Adventures of Superman, Lab Rats, and the feature film Spider-Man 2.
External links
Edit