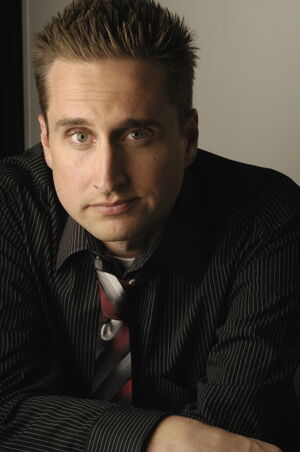 Grant Baciocco is a member of The Jim Henson Company's Puppet Up! - Uncensored improv troupe. In September 2009, he hosted the Puppet Up! show at The Avalon in Hollywood. In December 2010, he filled in as host for Stuffed and Unstrung in Irvine, CA and has filled in several times since when host Patrick Bristow has been unavailable.
Baciocco is also the host of The Jim Henson Company Podcast; and is co-creator of The Radio Adventures Of Dr. Floyd, which has included such guests as Jeffrey Tambor, June Foray, Chuck McCann, Frank Conniff, Leslie Carrara, John Kennedy, and Elizabeth Payne. He also appears on the CD of Leslie Carrara's alter ego Lolly.
In 2010 he produced and was the announcer for the Jim Henson Company's Wilson & Ditch: Digging America audio podcasts.
In 2013, he portrayed several characters in the Nerdist web series Ketchup with the Hot Dogs including the 'irrelevant host,' Bill Compton in the True Blood recap, Dexter in the Dexter recap, Jesse in the Breaking Bad recap, Roger and various thugs in the Boardwalk Empire recap and Nicholas Brody in the Homeland recap.
External links
[
]