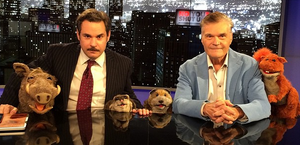 Fred Willard (born. 1939) is a comic actor known for his improvisational comedy skills. He is best known for his roles in the Christopher Guest mockumentary films This is Spinal Tap, Waiting for Guffman, Best in Show, A Mighty Wind, and For Your Consideration. He is also an alumnus of The Second City comedy troupe. He received three Emmy nominations for his recurring role on the TV series Everybody Loves Raymond as Robert Barone's father-in-law.
In 2006, Willard appeared as a celebrity guest in a pilot for the Henson Alternative puppet talk show, Late Night Buffet with Augie and Del.
In Good Morning Today, he played Daniel Stutzman who was a war veteran that took part in the Cuba liberation battle called the "Bay of Pigs."
Fred Willard also appeared in the No, You Shut Up! episode "Pistachio."
External links
Edit