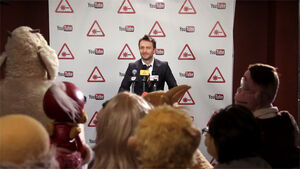 Chris Hardwick (born November 23, 1971) is an American stand-up comedian, actor, writer, musician, podcaster, television personality, and voice artist. He is best known for performing with Mike Phirman in Hard 'n Phirm; hosting Singled Out, Wired Science, Web Soup, Talking Dead, The Nerdist Podcast (now ID10T with Chris Hardwick), and @midnight; and as the voice of Otis in Back at the Barnyard.
Presidential candidate Marvin E. Quasniki appeared on The Nerdist Podcast with Hardwick in December 2011.
In January 2012, Quasniki appeared alongside with Hardwick again in a web video promoting "Course of the Force," a Star Wars-themed run/walk from Santa Monica to San Diego to benefit the Make-A-Wish Foundation.
In February 2012, Hardwick appeared along with the Miskreant Puppets and "Weird Al" Yankovic in a video promoting the new line-up coming to the Nerdist Channel.
Chris Hardwick also appeared on Good Morning Today where he was interviewed by Rilcardo Gomez about Twitter Tech. Besides him still hosting The Nerdist Podcast and Talking Dead in the alternate universe where Good Morning Today takes place, he also hosted Talking Hot which discusses episodes of Hot in Cleveland.
Hot Dog, Star Schlessinger and Paul F. Tompkins from No, You Shut Up! appeared as panelists on the February 23, 2015 episode of @midnight with Chris Hardwick.
In 2017, his contract with Legendary Productions had expired and his podcast was renamed ID10T with Chris Hardwick
In 2018, Chris Hardwick was fully removed from the Nerdist website due to abuse and sexual assault allegations against him and appearances featuring him on Nerdist had also been scrubbed from the website.[1] However his name has since returned to the Nerdist website.
References
Edit
External links
Edit
Community content is available under
CC-BY-SA
unless otherwise noted.