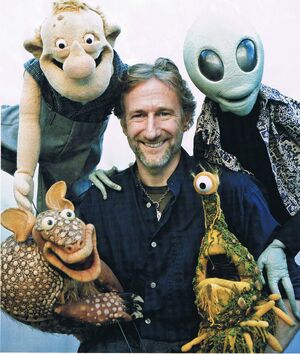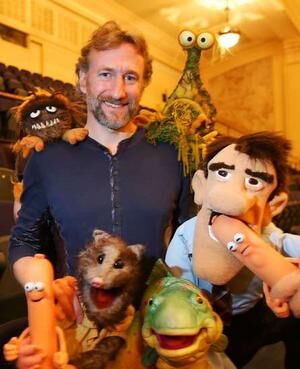 Brian Henson is the son of Jim Henson and Jane Henson, the brother of Lisa Henson, John Henson, Cheryl Henson, and Heather Henson, the co-CEO of The Jim Henson Company, and an award-winning director, producer, writer and performer.
History
[
]
In recent years, Henson served as Executive Producer on the television projects "It's A Very Merry Muppet Christmas Movie", "The Muppets' Wizard of Oz", "Farscape: The Peacekeeper Wars" (which he also directed) and "Jim Henson's Jack and the Beanstalk: The Real Story" (which he also cowrote and directed). He also directed "Battleground," an Emmy Award-winning episode of the "Nightmares & Dreamscapes" anthology for TBS.
Previous television projects that Henson produced include "Farscape", "Bear in the Big Blue House", "Gulliver's Travels", "The Wubbulous World of Dr. Seuss ", "Muppets Tonight" and "Dinosaurs". Henson's long list of film credits includes "The Great Muppet Caper", "Labyrinth", "The Witches", "Little Shop of Horrors", "Teenage Mutant Ninja Turtles", "The Muppet Christmas Carol" and "Muppet Treasure Island".
Henson also oversees the groundbreaking work at Jim Henson's Creature Shop, one of Hollywood's preeminent character building, digital and physical visual effects facilities. Henson was part of the team that first created and utilized the Henson Performance Control System, a powerful custom-based interface for puppeteers, which won an Academy of Motion Picture Arts and Science Scientific and Engineering Award in 1992. Recently, he has been leading the Shop's work with its revolutionary digital puppeteering technology, the Henson Digital Puppetry Studio, and has served as director for the Skrumps, the Company's newest troupe of animated characters brought to life using digital puppetry and seen exclusively at www.yahookids.com. Henson also is the Executive Producer of Sid the Science Kid, which uses the Henson Digital Puppetry Studio for a new science-readiness pre-school series, debuting on PBS this Fall.
Henson created and launched the Company's new live stage show "Puppet Up! - Uncensored" which has toured to Aspen, Las Vegas, Edinburgh, Sydney and Melbourne and is currently appearing monthly at Avalon Hollywood.[1]
In 2019, he made a return stint as a special guest star at Knott's Scary Farm.
Credits
[
]
Performer
[
]
Neil's Puppet Dreams: Jumper
Puppet Up! - Uncensored: Performer (2005-2015, 2019)
Stuffed and Unstrung: Performer
That Puppet Game Show: Dr. Strabismus, The Amazing Ian, Mouse Janitor, Hot Dog
Puppet Up! - Uncensored (television special): Mr. Guy, Old Man, Hot Dog, Goat, Warthog, Aardvark, Al the Alien
Guest Star
[
]
Crew work
[
]
Sources
[
]
External links
[
]