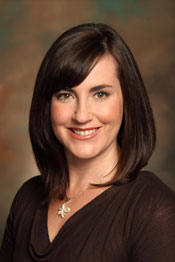 Allyson Smith is The Jim Henson Company's Vice President of New Media. Smith develops and executes the Company's social networking strategies - including maintaining the company's Twitter and Facebook presence - and seeks out business development for new online and mobile opportunities.
Smith received her Bachelor of Arts in Film Studies from U.C. Santa Barbara. She joined The Jim Henson Company in the business affairs department in 1999. Balancing her work negotiating performer contracts and protecting the Company's intellectual properties with her role as a content producer for both TV and online, Smith served as an assistant producer of interactive media and an associate producer/writer for "Jim Henson's Animal Jam." Recent credits for the company include serving as producer for "The Simian Undercover Detective Squad" and "Alt/Reality" for Film.com, and the upcoming "Mann-ster" for Microsoft. Smith also serves as supervising producer on Henson Alternative's Late Night Liars.
She has been interviewed on the Henson.com Podcast several times, most recently on the June 4, 2010 episode discussing Late Night Liars.